Dentures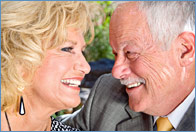 The Grimsby Denture Clinic offers a variety of dentures to meet your needs, including full, partial, and immediate dentures. We use premium quality materials and expert craftsmanship to ensure a unique and perfect fit, never compromising on comfort or aesthetics.
We are also proud to be a BPS & Implant Masters Certified clinic, and leading proponent of the advanced BPS denture fabrication system. If you would like more information about our specialized services, or have questions about any of the information presented below, please book your
free consultation here.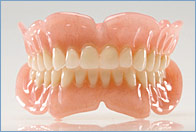 If you've lost all of your natural teeth, whether from periodontal disease, tooth decay or injury, complete dentures can replace your missing teeth and your smile, and benefit both your appearance and health. Without support from the denture, facial muscles sag, making a person look older. Full dentures will also allow you to eat and speak - things that people often take for granted until their natural teeth are lost.

The Grimsby Denture Clinic offers a wide range of denture techniques, ranging from conventional dentures to premium BPS (Bio-functional Prosthetic System) dentures. BPS Dentures require less time at the Denturists office, help minimize the signs of premature aging, prevent "hot spots" caused by ill-fitting dentures and ensure the most natural and aesthetic smile available today. Additionally, BPS dentures are fabricated through a unique injection process that limits shrinkage, eliminates the growth of bacteria--which often leads to bad breath--and ensures proper fit.
A partial denture can fall under two categories: tooth-supported or tooth and tissue-supported. The number of teeth remaining, the position, and the stability of the teeth are only a few of the factors that help to determine what style or type of partial denture would be best for you.
Partials can be made of different materials, including acrylics or a metal/acrylic combination. The following briefly explains the differences:
•
Acrylic partials are usually used as a transitional or temporary replacement of
missing teeth, depending on your personal circumstances.
•
The metal/acrylic partial -commonly called a cast partial- is usually a more
rigid and permanent style of denture. The metal is either a highly compatible
chrome cobalt alloy or titanium, which are both ultra thin, light and very
strong.
With newer designs, materials and techniques, partials are more comfortable than ever before. At your free, initial consultation with Costa Nassar, DD, you can learn about the many designs available, some of which have no visible clasps and are virtually undetectable.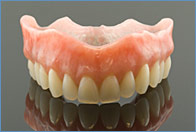 An immediate denture is temporary measure used to avoid the situation of being without teeth, and involves taking impressions of your mouth while your natural teeth are still present. An immediate denture is fabricated based on your natural teeth, and modifications can later be made after extraction of your natural teeth. Immediate dentures therefore allow you to have immediate teeth while you go through the healing process following extractions.
THINGS YOU SHOULD KNOW ABOUT IMMEDIATE DENTURES
Since the Denturist is unable to try-in the denture prior to extracting your teeth, certain easthetic compromises may be necessary. This doesn't present any significant problems, and the results are normally quite good.
After extraction of your natural teeth, and as the healing occurs, the oral tissues recede so denture adjustments may be required. Follow-up appointments with your Denturist are necessary. Also, to maintain the best fit and comfort of our immediate dentures, a temporary liner or tissue conditioner may be placed in the denture. During the next few months, bone and gum tissue will probably continue to shrink to some degree; however, the rate of change decreases with time. This is a natural occurrence, which is to be expected. After the healing process is complete, a new permanent full denture will be made to ensure the most comfortable fit possible.